PAT Testing - Managing Agents
"I was very impressed with the honest, efficient and professional PAT testing and repair work carried out in my flats. I would recommend your work." C K Shah, Gidea Park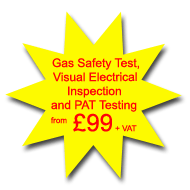 Any landlord who lets residential accommodation (which includes flats, apartments, houses, holiday homes, boats and caravans) as a business activity is required by law to ensure that the electrical appliances they supply as part of the tenancy are regularly PAT tested and safe. The responsibility of ensuring compliance should be set out in the Management Contract.
The Electrical Equipment (Safety) Regulations Act 1994 states that electrical equipment connected to the mains which is supplied with the accommodation must be safe. These appliances include hobs, washing machines, toasters, kettles,fans and heaters, anything with a plug, either new or second-hand. It is therefore essential that landlords regularly have this equipment PAT tested periodically, with a log of all items retained as evidence of testing as they may become faulty over time.
Tenant's should ensure that any property that they rent from a landlord has been checked for electrical safety prior to moving in and that all electrical appliances have been tested and are supplied in a safe working condition. A record of any testing undertaken should be available from the landlord or managing agents and this should indicate who undertook the work and when retesting is due. Any failure to do this could constitute a breach of the landlord's duty of care.
The IEE (Institute of Electrical Engineers) ,Electrical Safety Council and The Royal Institute of Chartered Surveyors amongst others recommend that PAT testing of electrical appliances be completed before the start of each let and annually thereafter.
Click here for a no obligation quotation for our PAT Testing services.