Electrical Testing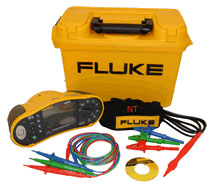 Our Electrical Testing services ensure that all aspects of an electrical installation are inspected and tested for strength, integrity and compliance with the BS7671 (IEE Wiring Regulations 17th Edition). We are a NICEIC approved contractor with a team of qualified electricians ready to undertake testing in both commercial and residential properties as required to meet appropriate legislation on electrical safety and insurers requirements.
All aspects of your electrical installation can be inspected and tested for strength, damage, wear, tear, integrity, corrosion, excessive electrical loading, ageing and environmental influences.
Periodic Electrical Inspection Reports are valid for a period as specified by the electrician when testing. Normal periods are 1 year for buildings used by the public, 5 years for commercial and let properties and 10 years for domestic properties. However, depending on the condition of the electrical circuitry this may vary.
It is not only older installations need to be inspected. Domestic properties in particular rented properties can change occupation frequently and can be subject to DIY alterations or work carried out by non-competent persons, often without the landlords knowledge.
Be sure that your property is electrically safe.
Click here in order to contact us for a no obligation quotation