Electrical Testing - Landlords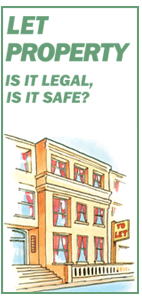 It is important that both the fixed electrical installation (i.e. the mains wiring) and any supplied appliances and other equipment are safe.
ELECTRICAL APPLIANCES. It is recommended that electrical appliances are tested prior to the initial letting of a properly and annually thereafter (see PAT Testing).
FIXED INSTALLATIONS. It is also important that the fixed wiring circuits are checked for safety. The Electrical Safety Council, The NICEIC and the Institute of Electrical Engineers (IEE) recommend that a full Periodic Electrical Inspection is carried out at least every five years in properties let for domestic use or at the commencement of a new tenancy (a stance also supported by Trading Standards). In addition to this we are able to offer an interim annual Visual Electrical Inspection Report (which can be undertaken at the same time as PAT Testing if required) that incorporates a visual check on the consumer unit, adequacy of main and supplementary bonding, lighting points and switches, smoke alarms, correct polarity of sockets and any other general observations relating to the installation.
It is a common misconception that only older installations need to be checked. Rented properties can frequently change occupation and may be subject to DIY alterations,or work carried out by non-competent persons often without the landlords knowledge. An annual Visual Electrical Inspection Report can assist in monitoring this and will highlight any changes from previous inspections.
Whilst there is no statutory regulation that enforces the regularity of electrical testing, the Landlord & Tenants Act 1985, Housing Act 2004 and Electrical Equipment Safety Regulations Act 1994 all place a responsibility on the landlord or Managing Agent to ensure electrical safety in rented properties.This duty of "due diligence" may be tested in court should a tenant be injured as a consequence of an electrical fault.
ELECTRICAL HAZARDS IN RENTED PROPERTY. Deterioration of the electric circuitry through age, damage, vandalism and inconsistent maintenance are the main causes of faults resulting in hazardous installations in rented property. This can lead to dangerous wiring, loose connections, broken sockets, overloading of circuits, ineffective bonding and missing blank covers to void circuit breakers exposing live wiring. The new 17th Edition of BS7671 wiring regulations has also introduced new levels of protection to bathroom circuits by RCD's.
Further information regarding your responsibilities in relation to electrical safety can be found at www.landlordzone.co.uk.
Click here in order to contact us for a no obligation quotation for our Electrical Testing Services.