PAT Testing - Commercial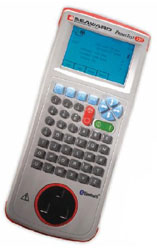 "I would recommend Essex Energy Services to any employer looking for a good service with excellent results". Prospects Colleges, Basildon
"I was very impressed by the level of service and attention to detail". Netjets, London W8
"Thank you for your friendly and efficient service, as always, and for working around our timetable/business requirements". Technotrans, Colchester
Essex Energy Services undertake PAT Testing using the latest hand held Seaward testing equipment for a wide range of customers ranging from commercial premises and schools with many thousands of items to rented residential properties and small retail outlets with only a few. Whatever the size of the contract our fully trained competent engineers treat all customers with the same courtesy and respect, working with them to cause a minimum of disruption to their working environment during testing. To avoid this further we can carry out testing work out of hours and at weekends at no additional cost.
Whilst undertaking your PAT Testing we will also point out any potential problems resulting from the overuse of extension leads and / or the use of extension leads still on the reel, damaged sockets, and other health and safety issues such as trailing leads and proximity of sockets to sinks and cookers etc. We can also incorporate cable tidying and socket testing into your PAT Testing programme if required.
PAT Testing can be undertaken on all 240V and 110V appliances and 3 phase appliances (by arrangement).
Our standard PAT testing procedure incorporates the following -
1. Earth continuity test on all class 1 items.
2. Current and insulation test on all appliances.
3. Cables and extension leads checked.
4. All plugs checked for conformity to current regulations and correct fuse fitting.
In addition we can also undertake a microwave leakage test on microwave ovens used on your premises.
Any plugs or fuses requiring replacement will be done at no additional charge (unless otherwise agreed at the time of quotation). All testing is supported by a fully itemised report in either digital or printed format and certificated.
Click here for further information or a no obligation quotation for our PAT Testing Services